"Breaking the Maya Code" is a two-hour film on the history of the Maya decipherment. The film premiered in high definition HD projection at the Maya Meetings in Austin in February, 2008, and has since had its international premiere at the International Festival of Films on Art in Montreal. "Breaking the Maya Code" was written and directed by David Lebrun and produced by Lebrun and Rosey Guthrie of Night Fire Films.

A 50-minute adaptation of the 2-hour film will be shown April 8 on the PBS series NOVA, under the title "Cracking the Maya Code."

According to director David Lebrun, the movie has been eleven years in the making. It originated with a conversation between the director and Michael Coe, author of the book "Breaking the Maya Code," at the 1997 Maya Meetings, and began production with extensive interviews with Linda Schele in the fall of 1997. The project gathered an advisory board including Coe as principal adviser together with Federico Fahsen, William Fash, Nikolai Grube, Stephen Houston, Justin Kerr, Simon Martin, Peter Mathews, Mary Miller, Robert Sharer, George Stuart, David Stuart, Karl Taube, Barbara Tedlock, and Evon Vogt.

Under the non-profit sponsorship of the Precolumbian Art Research Institute (PARI), funding was eventually acquired from the National Endowment for the Humanities, the National Science Foundation, and ARTE France. Principal photography began in December 2004, and shooting eventually took the production team to over 40 locations in nine countries. The lengthy post-production process involved editing the complex story down to just under two hours running time and the creation of over three hundred graphic and animated sequences.

A DVD of the two-hour version will be available soon.

For more information, contact David Lebrun at lebrun@nightfirefilms.org and Rosey Guthrie at guthrie@nightfirefilms.org.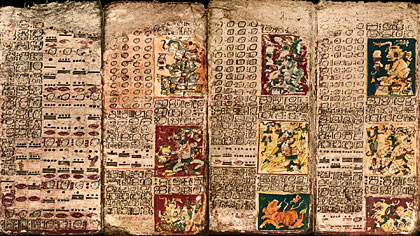 Pages of the Dresden Codex. (zoom)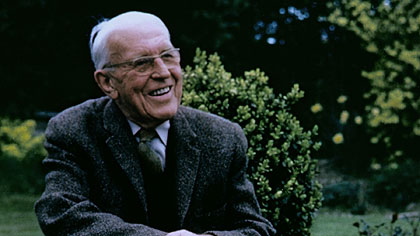 J. Eric S. Thompson (photo credit: Otis Imboden, courtesy of Boundary End Archaeology Research Center). (zoom)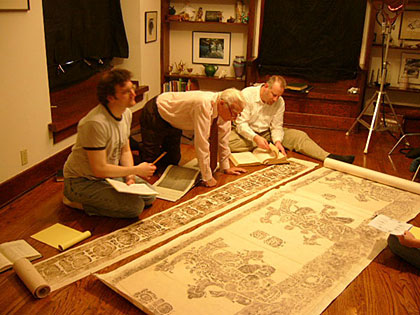 Filming dramatization of Dumbarton Oaks group decipherments (photo credit: Night Fire Films). (zoom)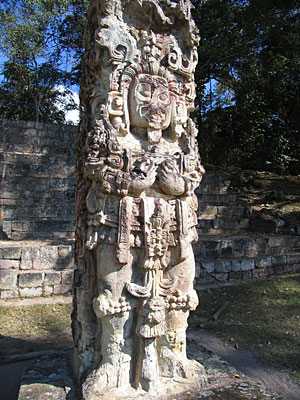 Stela at Copan, Honduras (photo credit: Night Fire Films). (zoom)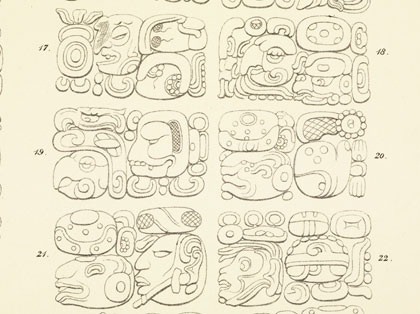 Maudslay (Annie Hunter) drawing of Copan Stela A. (zoom)