Posted August 5, 2002.
Vistors to the Palenque Round Table in June were greeted by the sight of a dazzling white Temple of the Inscriptions. In order to control leakeage into the tomb of Pakal, archaeologists cleaned the structure and removed all of the old gray cement that was holding the stones together, replacing it with stucco. it will eventually turn gray, but for now it startles with its radiance.

The work was carried out under the supervision of archaeologist Arnoldo Gonzalez Cruz of Mexico's National Institute of Anthropology and History. Taking the opportunity to investigate the west side of the Temple of the Inscriptions, Gonzalez found earlier terrace walls that had been covered over.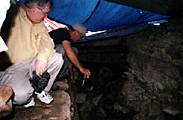 The construction sequence involving the Temple of the Inscriptions and the adjacent "Temple of the Red Queen" is still a mystery. In the photograph at left, Christopher Powell of the INAH project, picks the brain of Palenque expert Peter Mathews on the subject.
Another notable discovery was evidence of a stairway that ascended from the level of the Main Plaza.
It then connected with another set, offline just to the west, that went further up the hill behind the Temple of the Inscriptions. In the photograph at the far right, Christopher Powell gestures at the stairs.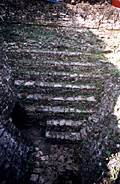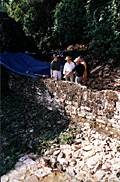 This hillside behind the Temple of the Inscriptions is now covered with trees but was once an architectural complex, equivalent in some respects to the North Acropolis at Tikal.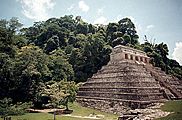 home