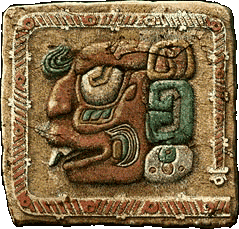 This adaptation of a Maya glyph represents the deity GI of the Palenque Triad. He is called GI (short for "god number one") because we don't know his actual name. The three gods of the Triad were the particular patron deities of Palenque, but other kingdoms had their own patrons. GI wears the shell earflare of the Maya rain god Chaak.




NOTES, SOURCES & LINKS:
Mesoweb specializes in the Maya and, more particularly, Maya history, viewing it through the lens of archaeology and the related disciplines and the written records left by the Maya themselves. We offer extensive resources for the study of Palenque, Chichen Itza, and El Zotz.
next